Should Formula One be going to Abu Dhabi?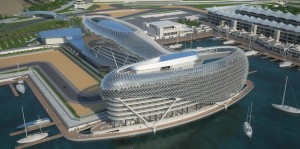 For the first time, the final race of the 2009 Formula One World Championship will be held at the new Yas Marina Circuit in Abu Dhabi.  Despite rumours that the circuit will not be ready for the inaugural race in November, the circuit's developers are confident everything is going according to schedule.
But should Formula One even be going to Abu Dhabi?
A report in the Observer on Sunday claims the US has videos of a member of the Abu Dahbi royal family torturing at least 25 people.  Sheikh Issa bin Zayed Al Nayhan is the son of the late United Arab Emirates President Zayed bin Sultan Al Nahyan and the brother of the present ruler of Abu Dhabi.
A video shown on ABC News shows the prince, with the help of a man in police uniform, torturing Mohammed Sha Poor, an Afghan grain merchant.  In the video, the prince beats the man with a wooden plank with nails in it, sets him on fire and attacks him with a cattle prod before running him over several times in his Mercedes SUV.
The UAE Ministry of the Interior said it had reviewed the tape and in a statement said:
The incidents depicted in the video tapes were not part of a pattern of behavior.  All rules, policies and procedures were followed correctly by the Police Department.
WTF?
It turns out the Minister of the Interior is also a sibling of Sheikh Issa.
The new Yas Marina circuit looks like it could be pretty spectacular but it calls into question Bernie Ecclestone's strategy of selling Formula One to the highest bidder.  The UAE might have lots of money but they have few Formula One fans and some serious human rights issues.