China: Weight adjusted qualifying times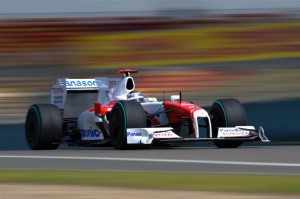 Once again the established order is upset and and an exciting qualifying session in Shanghai ended with Sebastian Vettel putting in a blinding lap to take pole position for Red Bull. Fernando Alonso also surprised by putting his Renault alongside him on the front row.
But were those times really indicative of race pace or were their cars fueled light?
Well, thanks to the FIA now publishing the weights of all cars after qualifying we can figure it out for ourselves.  Below is a graph showing the actual lap times of the cars compared to their fuel-adjusted lap times.  Only the top ten are shown because any car that doesn't make it into the third qualifying session may refuel before the race.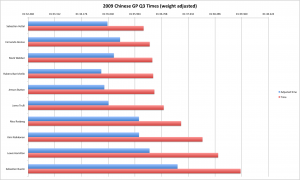 We can see from the graph that the two Brawn GP cars are still fastest and Alonso and the two Red Bulls are fueled pretty light, although Vettel isn't looking too bad.  Jarni Trulli could also be a threat if he gets a good start from the third row.