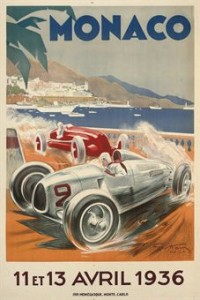 Christies is auctioning some fantastic vintage posters in London on Wednesday including a number of old motor racing and Formula One posters.
They date from the 1920's to the the 1970's and include Le Mans, Silverstone, Monza and, of course, Monaco.
Most of the Monaco posters pre-date the modern Formula One World Championship.  The poster to the right is from 1936, the year Monaco became part of the European Championship, and seems to depict a Mercedes-Benz W25K rounding La Rascasse.  There is also a poster from the 1966 race, the year McLaren made their Formula One debut.
The earliest poster is one by Noel Alphonse for the 1927 French Grand Prix held at the Autodrome de Montlhéry outside of Paris.
Originally called the Autodrome parisien, this track had extremely high bankings and in 1925 Alberto Ascari's father, Antonio was killed there while leading the French Grand Prix in an Alfa Romeo P2.
(Via Dinosaurs and Robots)