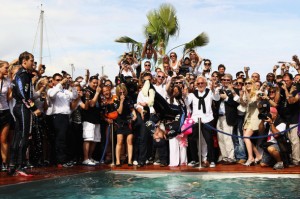 In a race that saw the safety car deployed four times it was the final lap that provided some unexpected controversy.
Mark Webber carried over his winning form from Barcelona to score his second victory of the season over team mate Sebastian Vettel. His perfect qualifying lap was matched by a perfect race and he led from lights to flag.
Robert Kubica had threatened all weekend but he had a poor start from the dusty side of the track and was forced settle for third behind the charging Red Bulls.
Nevertheless, this is a good result for Kubica and the French team. Renault have steadily improved this season and the way Kubica wrestled the black and yellow R30 around Monaco's twisty streets proved that with the right equipment he is the equal of any on the grid.
After crashing in qualifying Alonso carved his way from starting in the pit lane up to sixth place but when Jarno Trulli parked his Lotus on Karun Chandhok's head at La Rascasse the safety car was deployed in the dying laps of the race.
As the safety car pulled into the pits on the final lap Michael Schumacher took the opportunity to slip past a slightly sideways Alonso into the final corner and claim 6th. The stewards ruled this was in breach of article 40.13 of the sporting regulations:
If the race ends while the safety car is deployed it will enter the pit lane at the end of the last lap and the cars will take the chequered flag as normal without overtaking.
Schumacher was penalised 20 seconds which dropped him back to 12th.
Mercedes are appealing the decision. Reading the rules, I guess it could be open to interpretation but I thought it was a typically Schumacheresque piece of opportunism.
You have to smile at the irony, too. In 2006 Schumacher parked his Ferrari at Rascasse in an attempt to hold onto his pole position. The stewards didn't buy his story then and he had to start the race from the back of the grid.
But that's not the only interesting little bit of trivia. This year an experienced driver is assigned to the stewards at each race, a scheme that has so far seen much improved decisions. Who happens to have that role at this year's Monaco Grand Prix? None other than Michael Schumacher's old rival, Damon Hill.
2010 Monaco Grand Prix Race Results
| Pos | Driver | Team | Grid | Time | Points |
| --- | --- | --- | --- | --- | --- |
| 1 | Mark Webber | Red Bull-Renault | 1 | 1:50:13.355 | 25 |
| 2 | Sebastian Vettel | Red Bull-Renault | 3 | +00:00.448 | 18 |
| 3 | Robert Kubica | Renault | 2 | +00:01.675 | 15 |
| 4 | Felipe Massa | Ferrari | 4 | +00:02.666 | 12 |
| 5 | Lewis Hamilton | McLaren-Mercedes | 5 | +00:04.363 | 10 |
| 6 | Fernando Alonso | Ferrari | 24 | +00:06.341 | 8 |
| 7 | Nico Rosberg | Mercedes GP | 6 | +00:06.651 | 6 |
| 8 | Adrian Sutil | Force India-Mercedes | 12 | +00:06.970 | 4 |
| 9 | Vitantonio Liuzzi | Force India-Mercedes | 10 | +00:07.305 | 2 |
| 10 | Sebastien Buemi | Toro Rosso-Ferrari | 13 | +00:08.199 | 1 |
| 11 | Jaime Alguersuari | Toro Rosso-Ferrari | 17 | +00:09.135 | |
| 12 | Michael Schumacher | Mercedes GP | 7 | +00:25.712 | |
| 13 | Vitaly Petrov | Renault | 14 | retired, 73 laps | |
| 14 | Karun Chandhok | Hispania-Cosworth | 23 | crash, 70 laps | |
| 15 | Jarno Trulli | Lotus-Cosworth | 19 | crash, 70 laps | |
| 16 | Heikki Kovalainen | Lotus-Cosworth | 18 | retired, 58 laps | |
| 17 | Bruno Senna | Hispania-Cosworth | 22 | retired, 58 laps | |
| 18 | Rubens Barrichello | Williams-Cosworth | 9 | crash, 30 laps | |
| 19 | Kamui Kobayashi | BMW Sauber-Ferrari | 16 | retired, 26 laps | |
| 20 | Lucas di Grassi | Virgin-Cosworth | 21 | retired, 25 laps | |
| 21 | Timo Glock | Virgin-Cosworth | 20 | retired, 22 laps | |
| 22 | Pedro de la Rosa | BMW Sauber-Ferrari | 15 | retired, 21 laps | |
| 23 | Jenson Button | McLaren-Mercedes | 8 | retired, 2 laps | |
| 24 | Nico Hulkenberg | Williams-Cosworth | 11 | crash, 1 laps | |
Image: Red Bull