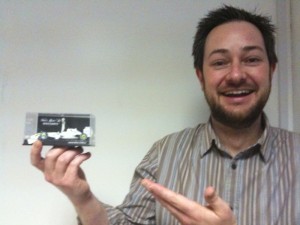 Last year we ran the innaugural F1 Buzz Formula One Prediction game.
It was a lot of fun and ended up being very close with the top three players still challenging for the win right up until the last race.
In the end, Andrew took the top prize: a scale model of Jenson Button's revolutionary BGP001 in the historic Brawn GP livery.
2009 was one of the best and closest F1 seasons ever, which meant that predicting the winners was hard.
With Fernando Alonso in a Red Car and the return of Michael Schumacher, 2010 promises to be just as exciting.
This year the Prediction Game returns for another season, but rather than posting your predictions on blog posts, the game has been fully Facebookified! Just visit http://apps.facebook.com/formulaone-buzz and add the application.
The rules are basically the same. Make your predictions for pole, 1st, 2nd, 3rd and fastest lap by the start of qualifying for each race. The deadline for each race is listed on the calendar page.
The points have been tweaked slightly to reflect the new points system introduced by the FIA in 2010:
Pole position: 10 points
1st: 25 points
2nd: 18 points
3rd: 15 points
Correct driver on podium but not in correct position: 8 points for each driver
Fastest lap: 10 points
The prize will remain a scale model of the winning car/driver by Minichamps. They are nicely detailed little models. Andrew can tell you. Just look how happy he is up there!
As the countdown timer in the top right shows, there is now less than a week until the first race of 2010. This means to maximise your chances of winning you need to get your predictions in for Bahrain by this Saturday.
The first race is always the hardest to predict. Good luck!