More hills = more fun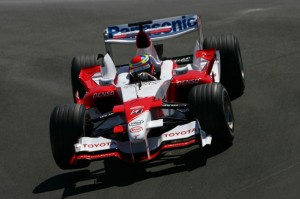 Peter Wahl, a partner of Hermann Tilke, has said that the changes being made to Donnington will make the track demanding and exciting with more opportunities for overtaking.
The Donnington Park grand prix circuit is undergoing a major upgrade to bring it up to Formula One standard before it takes over the British Grand Prix from Silverstone in 2010.  The last Formula One race at the circuit was in 1993 when Ayrton Senna won the European Grand Prix in spectacular fashion by lapping the entire field except for one car and finishing over a minute ahead of Damon Hill in second place.
According to Peter Wahl the modifications to the circuit will introduce a hilly new infield loop:
There is the new piece on the circuit infield, and that will be demanding and exciting.  It goes downhill steeply and into a left-hander – the drivers will feel the high pressure there, and then they will have to accelerate back uphill.
I'm starting to look forward to Donnington.  I don't think there have been enough hills on the new circuits introduced to Formula One recently.  When you think about the great circuits of the world, the ones the drivers and fans love, a lot of them have quite significant changes in elevation; Spa, Laguna Seca, Bathurst and Monte Carlo all have hilly bits and the new Circuito Potrero de los Funes in San Luis, Argentina looks spectacular.
I know there are limits to the elevation a Formula One car can handle and we're unlikely to see a McLaren screaming round Mount Panorama or a Ferrari lapping an Argentinian volcanic lake but in 2006 Ricardo Zonta broke the lap record at Laguna Seca in a Toyota TF106.  Wouldn't it be great to see a US Grand Prix there if F1 ever returns to North America?
And for those of you who aren't familiar with the Bathurst circuit (technically a street circuit), here's Peter Brock flying round the Mountain in 1991.