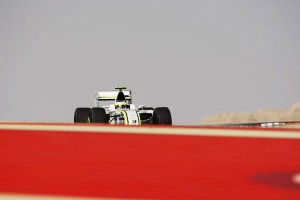 Jenson Button and Brawn GP have dominated the start of the 2009 Formula One season, winning three out of the four races so far.  If you listen to Renault's Flavio Briatore that is almost entirely down to a 'unique' interpretation of the rules but since the FIA declared double-decker diffusers legal all the 'non-diffuser' teams have been working hard to redesign the back of their cars.
After the flyaway races in the East, the Spanish Grand Prix marks the start of the European tour and most teams will be bringing significant car updates to the Circuit de Catalunya this weekend.  These updates, and the fact that the drivers and teams know the track backwards from winter testing, should make for a close race on Sunday.
One of only three teams to use KERS this season, BMW have abandoned the device for Spain in favour of a comprehensive aerodynamic update.  Team boss Mario Theissen said:
We will not be equipping either cars with KERS in Barcelona.  It was a case of lining up with either a comprehensive aerodynamic update or KERS.  The tuning time on Friday would be too short.
I'm not sure why they can't run KERS with the new aero update but BMW will be hoping it brings an improvement to their apalling start to the season.
Now that in-season testing is banned, the teams face a new problem when developing their cars this year.  Previously, teams could run many miles testing new aero packages before racing them.  This year it won't be until they take to the track in Friday practice that they will know if any new parts are successful. Toro Rosso's chief engineer, Laurent Mekies:
Obviously we don't have testing now so we have to understand how the upgrade suits the direction we have taken so far.  Does it push in the same direction or does it ask us to reconsider some of the choices we have made already?
McLaren already made significant improvement in Bahrain with Lewis Hamilton wringing the most out of the MP4-24 to finish fourth and so will not be bringing anything special to Spain.  The Barcelona track is unlikely to suit the McLaren but Hamilton remains hopeful of another strong finish:
We won't have the bigger upgrades of some of the other teams as we already introduced several new parts during the opening flyaways, so it will be interesting to see where we sit in the order. Nevertheless, the engineers are optimistic that our new diffuser and front wing will once again help us to make progress towards the front of the grid.
Currently fourth in the Constructors' Championship, McLaren will be hoping for a stronger performance at Barcelona than they displayed there in winter testing.
Image: Brawn GP