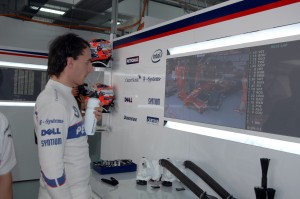 One of the key proposals of last week's FOTA presentation in Geneva was a "commitment to enhance consumer experience via TV coverage."  One area where Formula One lags behind other sports is in high definition broadcasts.
According to DPME.com, production services company LIVE are in negotiations with Bernie Ecclestone to produce the inaugural Abu Dhabi Grand Prix this November in high definition.
Each Grand Prix is produced by German broadcaster RTL in conjunction with the local host broadcaster but LIVE managing director and CEO Abdul Hadi Al Shiekh told DPME.com that he hopes LIVE can strike a deal to produce HD broadcasts of the event as a test case for the sport's future:
We have been in negotiations now for two months and we would love to present an international flagship event such as this in HD.
The BBC, which takes over broadcasting F1 from ITV this year, is keen to show races in high definition if the content is available.  According to the BBC's Head of HDTV, Danielle Nagler:
A decision about F1 and HD sits primarily with the rights holder (F1/Bernie Ecclestone), rather than with the BBC. We are keen to do it as soon as possible.
Formula One is particularly suited to high definition broadcast and it is strange that one of the most technologically advanced sports seems to struggle with new technology when it comes to television and the internet.  FIA president Max Mosely is keen to embrace the potential of the internet and the teams clearly want to exploit the the sport's media potential but even if LIVE convince Ecclestone to broadcast in HD it won't happen until the last race of the season.
Image: BMW AG