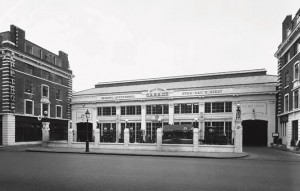 Last week, Keith Collantine at F1 Fanatic wrote a nice post about one of my favourite London buildings, the beautiful art-deco Michelin House on Fulham Road.
That building was the UK headquarters of Michelin from 1909 to 1985 before Sir Terence Conran bought it and turned it into the Bibendum Restaurant, named after the cigar-smoking, bicycle-riding, rubbery mascot of the Michelin Tyre Co.
But only a short walk away is another historic art-deco automotive building that Conran has converted into a restaurant; the Bluebird Garage on Kings Road.
When the garage was built in the early 1920's, it was Europe's largest motor car facility at some 50,000 sq ft.  As well as selling petrol and servicing automobiles, it also provided overnight accommodation for lady motorists and their chauffeurs in the two wings on either side of the main building.
The land speed record holder Sir Malcolm Campbell had a connection with the garage although it is hard to determine what it was exactly.  Some say the garage was where he built his famous 'Blue Bird' cars, others that he just sold cars there when he took over the Itala and Ballot concessions in London.
Campbell competed in Grand Prix racing, winning the 1927 and 1928 Boulogne Grands Prix but he is best known for breaking the world speed record on land and water several times in the 1920's and 30's.
His first land speed record was in 1924 when he piloted a V12 Sunbeam 350HP to 146.16 mph at Pendine Sands in Wales.  Between 1924 and 1935 he broke the land speed record nine times and on September 3 1935 he became the first person to drive a car over 300 mph when he hit 301.337 mph on the Bonneville Salt Flats in Utah.
Campbell drove four Blue Bird cars (his son Donald drove a jet-powered Bluebird in the 1950's) culminating in the 1935 Campbell-Railton Blue Bird.  This car had a 36.7 litre supercharged Rolls-Royce R V12 engine producing 2,300hp.  The car was so powerful that double rear wheels had to be fitted to stop the wheels spinning.
Here's a video of Campbell driving Blue Bird at Daytona Beach.
Below are some pictures of the Bluebird Garage.  The tennis balls are a Wimbledon thing. 🙂

Images: Conran & Partners, David Keen