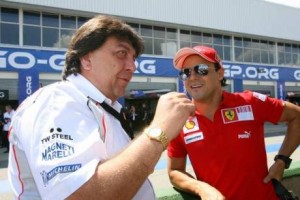 The South African round of A1GP was held at the former F1 venue of Kyalami on Sunday.  The last Formula One race to be held there was in 1993 when Alain Prost won in torrential conditions ahead of Ayrton Senna and Mark Blundell.  Only five cars made it to the chequered flag that day and Rubens Barrichello made his F1 debut.
Sixteen years later, Alain Prost's son, Nicolas, could only manage 18th and Sunday's feature race was won by Switzerland's Neel Jani.
Felipe Massa was there to promote the new A1GP Powered by Ferrari car but this didn't stop the chairman of A1GP, Tony Teixeira, accusing Formula One of stealing all the good ideas from A1GP.
Speaking to the South African Times newspaper Teixeira said that F1 is blatantly copying the ideas introduced by A1GP such as a single tyre supplier and a standard engine performance and even comparing Force India to the "World Cup of Motorsport" that A1 aims to be:
Everything we are is what Formula 1 is trying to be
He also predicts Toyota, Renault and BMW all widthdrawing from F1 in the near future.
While this is all just a bit of bluster from Teixeira, perhaps trying to deflect attention from the state of A1GP's finances, it does provide a cautionary note.   The FIA needs to tread a fine line between cutting costs and turning Formula One into a spec-series.
Adrian Newey, Red Bull's Chief Technical Officer, has already said the new restrictions in F1 have forced him to rethink his future in the sport and Sir Frank Williams has warned that any moves towards a spec-series could cost Formula One its drivers and fans:
If it's to be spec cars, why not just go and buy some IndyCars? Then I think you'd find all the talent and interest would pretty quickly drift away
But I'm pretty optimistic that won't happen.  It's not something the team principles want and even Max Mosley seems to realise they may be taking things too far:
It's a fault with the regulations.  They have constricted the areas where they can work to keep speeds and costs under control to the point where you get the best returns by endlessly refining every single component of the car.
It will be interesting to hear FOTA's view when they reveal their plans for the sport at a press conference in Geneva on March 5.