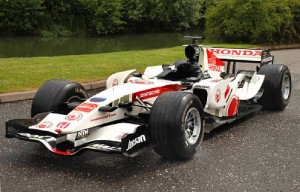 It is expensive running a Formula One team these days and unless you are bankrolled by a billionaire or wealthy Middle East investors it can be hard for an independent team to make ends meet.
Despite leading the World Championship there is a distinct lack of sponsors on the mostly white Brawn GP cars so to raise some funds they are having a bit of a clear out, seeing what junk they can find lying around the factory and flogging it at auction.
Bonhams auction house will be selling a number of old Honda and BAR cars at the Silverstone Classic on 25 July including a chassis that was driven by Jenson Button to finish third in the 2006 Malaysian Grand Prix at Sepang.
Brawn CEO, Nick Fry said:
Brawn GP is extremely proud of our heritage with British American Tobacco and Honda, and we have inherited a vast collection of historic race cars and memorabilia from the team's early years. We are delighted to be able to give collectors and our fans the opportunity to share in our history and purchase some fantastic items, including actual race cars, through this unique sale.
None of the cars have engines or gearboxes but even so the estimates look strangely affordable.  A show car will set you back £7000 – £10,000, while you can get one that Jenson Button himself raced for under £20,000.
I don't know where I would put it but I am almost tempted to place a bid.