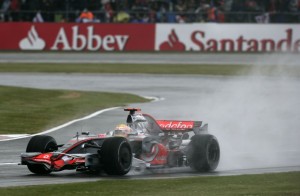 It's raining heavily in Malaysia right now. Malaysia is always hot and showers are common but heavy rain is forecast until Monday so it's highly likely Sunday's Grand Prix will be a wet one. Wet races can be exciting – except when it is so wet the race has to be abandoned – but if it rains on Sunday it promises to be particularly interesting.
Firstly, it would be the first race run in the wet with the new aerodynamic regulations. The new rules for 2009 that shrunk the rear wing and banned all the little appendages from the cars effectively cut the amount of downforce in half. The talented engineers managed to claw some of that back but the cars will still be running with significantly less downforce than last year. On a dry track this is just about offset by the return of slicks but you can't run slicks when it is raining. This means the cars will have much less grip on a wet track than they would have had last year. Jarno Trulli already complained about the handling of his car when testing at a rain-soaked track in Portugal in January:
In the conditions it was very difficult to get temperature in the tyres. It was really hard for everyone out there and it was nearly impossible to drive.
But grip won't be the only problem the drivers could face. Like in Melbourne last weekend, the Malaysian Grand Prix will start at 5pm local time. This is good for European television viewers but not so helpful for the drivers. Williams driver Nico Rosberg reckons it is dangerous to run races so late in the day without lighting and suggests bringing the race start forward an hour:
I think twilight racing is not the way to go. In Melbourne it was obvious that it just increases the danger so much. The visibility is so difficult, you can't even see the edges of the track in some corners. I was driving into the sun and that's not what racing is about. So I really hope they reconsider that. Even moving it forward by one hour or something will help us massively. It was just the last part of the race that was the really problematic time.
A monsoon would only make the skies darker with a very real chance of the race having to be stopped.
But supposing it isn't too wet or too dark to race, who might do well? There seem to be a few wet weather specialists on the grid now. Jenson Button won his first race at a wet Hungaroring in 2006, his team mate Rubens Barrichello cut through the field in Silverstone last year thanks to Ross Brawn's perfect tyre choice to finish third in the same race that Lewis Hamilton drove to a stunning victory, and Sebastian Vettel's maiden win was at Monza in the rain.
They have all performed well in the wet but I think if Hamilton stays out of trouble with the stewards we could see another epic performance. After his win at Silverstone in 2008, Sir Jackie Stewart said of Hamilton:
In this race many people went off the track – Felipe Massa spun on five occasions, just by putting the power on far too early and far too hard. But Lewis drove almost flawlessly to win by 68 seconds – an enormous margin – and demonstrated that he's unquestionably the best wet weather driver of this current generation.