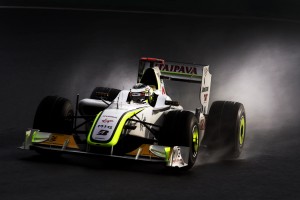 Mark Webber picked up the second win of his long Formula One career at the Brazilian Grand Prix on Sunday. Unfortunately for Mark, Jenson Button drove a fantastic race from 14th on the grid to finish 5th and in so doing clinched the 2009 Drivers' Championship, stealing Webber's glory somewhat.
Brawn GP also picked up the points they needed to win the Constructors' Championship.
For the fifth time in a row the Interlagos circuit played host to the Championship decider. And what a race it was.
After a washed out qualifying that saw both Button and Vettel dropped in the first session, determined drives from Button, Vettel and Hamilton gave us one of the most thrilling races of the season.
After dispatching Romain Grosjean and Kazuki Nakajima, Button became stuck behind Toyota's Kamui Kobayashi who was filling in for Timo Glock. The young Japanese driver in his first Formula One race put in a gutsy performance. He seems to come from the Takuma Sato school of driving; not afraid to throw his car around the track with willful abandon. Jenson described him as "absolutely crazy." I agree! Let's hope he gets a drive next year.
Lewis Hamilton made the most of his KERS powered McLaren by switching to a one-stop strategy when the safety car came out on the first lap. He started from 17th on the grid but drove an aggressive race, passing Alguersuari and Grosjean on a single lap before making Barrichello's day even worse by passing him on lap 62 to finish 3rd. Hamilton's podium moves McLaren to 3rd in the Constructors' Championship, one point ahead of Ferrari.
Speaking of Ferrari, Kimi Raikkonen proved how cool he was when a trailing fuel hose from the back of Kovalainen's McLaren briefly turned him into a human torch. This seemed to have little effect on the Finn and he went on to finish 6th.
The new Yas Marina circuit in Abu Dhabi looks spectacular but it's hard to imagine it producing a more thrilling race than Brazil. Interlagos had it all: unpredictable weather, loads of overtaking, spectacular crashes, even very nearly a trackside punchup between Adrian Sutil and Jarno Trulli.
This is what Formula One should be.
2009 Brazilian Grand Prix Race Results
| Pos | Driver | Team | Grid | Time | Points |
| --- | --- | --- | --- | --- | --- |
| 1 | Mark Webber | Red Bull-Renault | 2 | 32:23.081 | 10 |
| 2 | Robert Kubica | BMW Sauber | 8 | 32:30.707 | 8 |
| 3 | Lewis Hamilton | McLaren-Mercedes | 17 | 32:42.025 | 6 |
| 4 | Sebastian Vettel | Red Bull-Renault | 15 | 32:42.733 | 5 |
| 5 | Jenson Button | Brawn-Mercedes | 14 | 32:52.086 | 4 |
| 6 | Kimi Raikkonen | Ferrari | 5 | 32:56.421 | 3 |
| 7 | Sebastien Buemi | Toro Rosso-Ferrari | 6 | 32:59.072 | 2 |
| 8 | Rubens Barrichello | Brawn-Mercedes | 1 | 33:08.535 | 1 |
| 9 | Heikki Kovalainen | McLaren-Mercedes | 16 | 33:11.481 | 0 |
| 10 | Kamui Kobayashi | Toyota | 11 | 33:26.081 | 0 |
| 11 | Giancarlo Fisichella | Ferrari | 19 | 33:33.746 | 0 |
| 12 | Vitantonio Liuzzi | Force India-Mercedes | 20 | 33:34.469 | 0 |
| 13 | Romain Grosjean | Renault | 13 | lapped | 0 |
| 14 | Jaime Alguersuari | Toro Rosso-Ferrari | 12 | lapped | 0 |
| RET | Kazuki Nakajima | Williams-Toyota | 9 | crash, 30 laps | 0 |
| RET | Nico Rosberg | Williams-Toyota | 7 | retired, 27 laps | 0 |
| RET | Nick Heidfeld | BMW Sauber | 18 | retired, 21 laps | 0 |
| RET | Adrian Sutil | Force India-Mercedes | 3 | crash, 0 laps | 0 |
| RET | Jarno Trulli | Toyota | 4 | crash, 0 laps | 0 |
| RET | Fernando Alonso | Renault | 10 | crash, 0 laps | 0 |
Image: Brawn GP