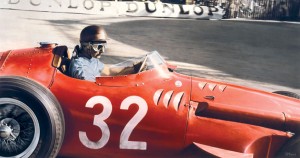 Sixty years ago today was the first Monaco Grand Prix of the new Formula One World Championship.
It wasn't actually the first Monaco Grand Prix ever. That was in 1929 and it was won by British spy/racing driver William Grover-Williams but in 1950 Juan Manuel Fangio won his first race of his career in Monte Carlo.
As he tells Jake Humphrey in this great BBC interview, Sir Stirling Moss, the first British winner of the Monaco Grand Prix, considers Fangio the greatest ever Formula One driver. It's easy to see why. Fangio would later go on to win 5 world championships, a record only surpassed by Michael Schumacher 46 years later.
This picture of Fangio racing his Maserati 250F around the streets of Monte Carlo is not a photograph. It is an airbrush painting by Italian artist Alberto Ponno. Ponno's incredibly details paintings are the result of months of work all done freehand and without any masking.
Here are a few more Monaco examples of  of his amazing work. Visit his website to see the rest of his paintings.