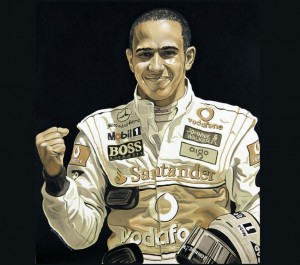 New York artist David Macaluso has painted a portrait of Lewis Hamilton using oil taken from the McLaren MP4-23 Formula One car Hamilton used to win the 2008 World Championship.
Commissioned by McLaren partner Mobil 1, the painting will be unveiled at the British Grand Prix next weekend.
Apparently next week is National Oil Check Week and Mobil will be running a competition where you can win one of 50 limited edition prints of the portrait.
Macaluso has been working with used motor oil for some time and has even painted a series of portraits of Barack Obama.
Apparently the Mobil 1 oil was 'extremely smooth and very particle-rich', making for a  'great painting medium':
I've been recycling used motor oil into paintings since 2005, so it was exciting to do a portrait of Lewis, and it was a privilege. When people look at my portrait of Lewis Hamilton, I want them to know it contains the Mobil 1 that circulated inside his Mercedes-Benz engine.
Lewis Hamilton liked the results, too:
I've always known that the Mobil 1 in my race car is an important component that can give us an edge over our rivals in some circumstances, but I'd never have guessed you could use it to paint with; the oil gives this picture a unique look and feel.
Another McLaren partner has also been busy making automotive art.
Ever wondered what would happen if Lewis Hamilton's Vodafone McLaren Mercedes Formula 1 car was driven through 1,200 liters of paint?  AkzoNobel has.
After months of planning, Hamilton's MP4-24 was driven through pools of red and silver paint.  Unsurprisingly this resulted in paint being sprayed everywhere with the splashes captured on two 50 square metre canvases.
I'm not sure the results are as impressive as Macaluso's portrait but take a look at the making of video below and see what you think.